To celebrate Language Magazine's partnership with the TCEA (Texas Computer
Education Association) at its annual convention in Austin this month, here is a
selection from the wide range of products on offer
Cantata Learning Offers Multisensory Stories

To offer a multisensory learning experience that engages a wide range of learners, educational publisher Cantata Learning has created books enhanced with music. These pre-K–3 products combine engaging stories, delightful illustrations, and fun songs for a unique learning experience.
All Cantata Learning products have accompanying melodies to support student engagement and learning. Music is a fun, proven method of introducing new language and concepts to a broad range of students, including ELL/ESL and SPED. Songs can be used in a variety of ways throughout the school, including in the library or classroom, to strengthen language skills such as pronunciation, grammatical structure, and vocabulary. All books come with a CD that contains three different tracks: the book, the song only, and an instrumental version of the song. Free access to all of the songs can also be found online, where the music is available to stream or download.
Librarians and other educators can choose from hundreds of books on the site, where they can search for lessons by subject, grade, reading level, and music genre. Topics span the entire curriculum, from language arts and social studies to STEAM, as well as additional subjects, such as social-emotional learning and simple singalong stories. Examples of titles include Animal Feet: A Song about Animal Adaptations, Little Red Riding Hood, and Make Every Day Earth Day: Caring for Our Planet.
Additional online resources include specially built lesson plans centered around the stories and songs, research articles about literacy and the use of music and movement to teach children, and presentations on best practices for implementing this teaching method.

myON 3.7 Clarifies What Students Are Reading


myON,
a business unit of Capstone and leading provider of personalized literacy solutions in the K–12 marketplace, has released myON 3.7, an updated version of the myON Digital Library and Faculty Report. This newest version provides a variety of updated features aimed to give educators a clearer view of what their students are reading and how their skills are developing as they read.
Major new features include trackable Lexile scores, standard correlations by book title, K–2 benchmarks for younger readers, and title usage reports that give teachers insight into which titles are being read and what students think of them.
Teachers can now filter student assignments by roster and by group. They can assign start and end dates for reports and may also search by name, filter by grade, and display the top ten or 20 students in a large roster. To help educators share reports, myON 3.7 offers new, easier print commands and the option to download reports as CSV files.
Redcat Access Accents the Teacher's Natural Voice

Redcat Access by Lightspeed Technologies is a receiver, amplifier, and speaker all in one. Frequently paired with the Lightspeed Flexmike microphone, the Redcat provides clear, com
plete audio coverage to fill any space and help distribute a teacher's voice evenly throughout the classroom. Incorporating Redcat Access into daily lessons saves teachers' voices by making them more audible and more intelligible—without them being raised. The teacher wears the microphone around his neck, so it captures every word and leaves his hands free. Sound is delivered wirelessly, filling the room with the teacher's natural voice and enabling students to hear the entire lesson no matter where they are sitting. Redcat delivers whole-room audio with exceptional clarity, maximizing students' time on task and allowing everyone, including ELLs and those with hearing impairments, to hear better and learn better.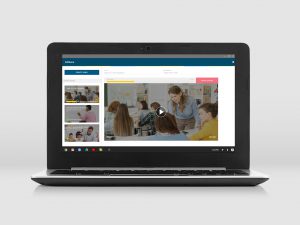 Edthena is a classroom observation platform that facilitates video-based coaching and professional learning for schools and districts. It allows teachers to share videos of their own teaching with coaches and colleagues who provide timestamped comments categorized as questions, suggestions, strengths, and notes. The platform enables teachers and coaches to participate in collaborative professional learning cycles. Reports and graphs, linked to the school's or district's associated professional standards, help identify teaching trends, determine if the professional development is improving teaching practices, and provide a basis for ongoing dialogue about instructional best practices.
Using a Chromebook for video coaching is now a reality with Edthena's new Chromebook app. The app automates the process of recording and uploading videos of any length, so teachers can complete an entire video coaching cycle—from recording to upload to feedback—on a Chromebook device. With this release, video tools are now available for all major device platforms found in schools—Windows, Mac OS X, iOS, and Chrome OS.
Schools, districts, and teacher education programs in more than 30 states are using Edthena's platform to make video observation an integral part of teacher induction, teacher mentoring, professional learning communities (PLCs), and peer observation.
Rap with Flocabulary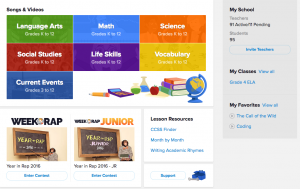 Flocabulary is a learning program for all grades that uses educational hip-hop music to engage students. Teachers at 20,000 schools use Flocabulary's videos, instructional activities, and student creativity tools to supplement instruction and help develop core literacy skills.
The program uses music to get students interested and ready to learn while teaching key skills and concepts. Research has shown that students are motivated when the material they are learning is interesting and relates to them.
Digital subscriptions to Flocabulary offer access to more than 800 videos with accompanying classroom resources to support instruction in math, science, social studies, ELA, vocabulary, current events, and life skills, with new content every week. Over the course of a Flocabulary lesson, educators hook students with a video, then lead students to master the subject matter through a series of exercises. To culminate the unit, students demonstrate their voices and make the content their own using Lyric Lab, an interactive tool that supports students in writing academic rhymes.
Free Content on MyVocabulary.com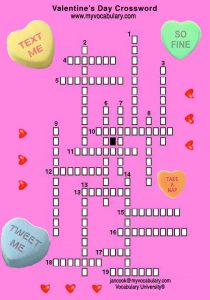 MyVocabulary.com has created over 2,500 web pages of free educational content puzzles/activities/lesson plans across the curriculum (nearly 100 academic-subject and calendar-specific themed features). Over 730 subject word lists are used by ELL/ESL/LEP teachers and their students.
The site uses different types of puzzles to capture a student's attention and address learning styles: interactive puzzles emphasizing Latin roots, definition matching, fill-in-the-blank games, crosswords, word searches, synonym vs. antonym comparisons, true or false questions, and an audio reading passage using the words in context. Grade-level vocabulary is determined from a readability index/frequency of use list to promote "student level" literacy.
All content is available without registration or fees, but there is an open educational resource "premium subscription" product that allows participants (teachers, students, families, and so on) to use the multiple puzzle engines to customize their own vocabulary puzzles. Teachers can use their own words, if desired.
Having the vocabulary for 155 novels, plays, and books is unusually useful for ELA teachers. Some of the most requested novels have four additional puzzle activities to ensure comprehension and develop better vocabulary abilities. For those students interested in college, there is a test prep vocabulary area for ACT and SAT exams where various puzzle exercises test successful learning.
ThinkCERCA Adds Blended-Learning Planning Tool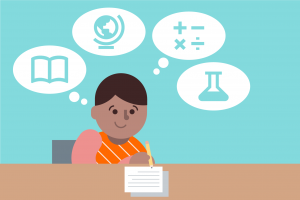 ThinkCERCA has launched their new Classroom Planning Tool for its personalized literacy platform. The tool enables teachers to customize classrooms into blended-learning environments that create personalized learning experiences for students. Teachers begin by searching for a model based on their school's level of technology access and time constraints.
The platform then generates a selection of robust classroom models, which include station-based rotations, leveled groups, responses to intervention, and many more. Once educators select a lesson model, they are provided with a suggested schedule for completing a differentiated lesson set, step-by-step instructions for incorporating ThinkCERCA into the classroom, classroom setup suggestions, and even advice for customizing each model.
Teachers can set up blended implementations that are aligned to their school's level of technology access, schedule, and instructional plan, offering a variety of learning models to fit a variety of classroom needs.
The applied reading and writing lessons were designed around research-based best practices such as differentiation and peer-to-peer discussion. The Planning Tool allows educators to seamlessly incorporate the platform's usage into their classrooms while staying focused on the classroom activities and practices that lead to student growth.
The Lesson Library features a curated array of mini-lessons, passages, and automated and constructed response assessments. These standards-aligned lessons can be delivered directly to students at their individual levels of readiness. Lessons are leveled for grades 3–12 and are developed by master teachers and nationally recognized literacy experts, like Gerald Graff, Doug Buehl, Katherine McKnight, and Doug O'Roark.