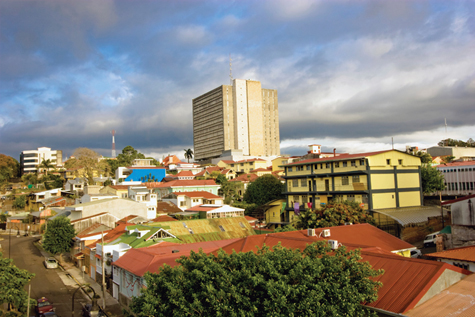 Kate Sommers-Dawes marvels at Costa Rica as a Spanish immersion destination
Visit Costa Rica's official tourism site and read its official slogan; "No Artificial Ingredients," — a mantra of which you will not need reminding from the first moment you step foot in one of the country's myriad waterfalls or stumble upon one of its one hundred plus species of brightly colored frogs. The country is of a manageable size and the bus network is extensive if somewhat slow due to rainy weather and less than perfect roads. Its two airports allow visitors to crisscross the country with speed but at greater expense (if you've got the time, a two peso, six-hour bus ride is hard to turn down — as is the quality time you'll get to spend with the locals).
The country, a veritable natural amusement park, offers active volcanoes, stunning beaches (both Caribbean and Pacific), and intoxicating rain forests full of exotic flora and fauna. In the country's center is the famed Arenal volcano, which is a hefty but picturesque hike from the small town over which it looms. The landmark also overlooks a waterfall and swimming hole as well as a luxury resort based around natural hot springs. Tortuguero National Park, on the Caribbean coast, is an epicenter for ecotourism and a hot spot for sea turtle watching and caring. For monkeys, iguanas, and sloths galore, head to Manuel Antonio National Park, clear on the other side of the country, to hike in a stunning evergreen forest that grows right up to the shoreline of the Pacific Ocean. Mountainous Monteverde also offers cloud forests, canopy tours, and ziplining for the ultra-adventurous.
Additionally, for the surfer-expat types, no shortage of laid back, tiny beach towns dot Costa Rica's shores, offering prime, picturesque, beach-bumming locales.
With its diverse array of landscapes, climates, and activities on offer, Costa Rica, as a nation, could not disappoint visitors even if it tried. The main difficulty facing the language traveler with limited time will be deciding which places to visit first. Occupying a small strip of land between Panama and Nicaragua, Costa Rica is home to fifty plus Spanish schools, including:
Forester Instituto Internacional offers several exciting programs of instruction in the Spanish language. Its short immersion courses of one to four weeks are popular among students. The Institute is located in the capital city of San José, and was founded in 1979. Basic to the school's philosophy is maintaining a cheerful, congenial atmosphere in which to learn Spanish. The school has partnered with several foreign universities as part of their study abroad Spanish programs. Lessons are offered at beginner through advanced levels in small classes so students who receive personalized attention. For those who are unable to travel and who wish to continue improving their Spanish, the Institute offers online, live, one-to-one instruction via webcam.
David D'Amore, MA, former UCLA professor and Pepperdine graduate, founded La Academia de Espanol d'Amore in 1992 and has trained thousands of students from over 30 countries in the Spanish language and Costa Rican culture. The academy offers a teaching-learning process based on the Communicative Approach through the language immersion modality of learning; courses are therefore conducted completely in Spanish. There are courses available for adult students of all levels, from zero knowledge of the language to advanced speakers.
Additionally, students study Latin American culture and spend one day a week outside of the classroom on various excursions. For example, students study in the jungle learning about various ecosystems within the tropical rain forest. As an alternative choice for the regular academic program, the school offers Spanish for Specific Purposes (SSP) in four different disciplines: Medical, Business, Legal, and Education for those who want to concentrate on a specific linguistic area. Classes meet for four hours each day, Monday through Friday and are held in comfortable, ocean view classrooms. The classes are small, personal and meet in the morning or afternoons (depending on group placement), leaving enough time for exploring the surrounding area or relaxing on the famous Manuel Antonio beach.
Many of Cost Rica's schools are in the Central Valley but, in recent years, several have sprung up on the Pacific coast. Conversa Spanish, founded in 1975 by a former Peace Corps language coordinator and linguist, sits on a six-acre mountain-side campus that is a breathtaking setting for learning to speak Spanish. The instructional staff is highly experienced and there is also a large support staff. All stand ready to assist students with their language learning. Language groups are never larger than four students and care is taken to assure that these groups are well-integrated according to age and proficiency level. Staff and students come together for breakfast and lunch in Conversa's comedor. Activities are offered after lunch to provide out-of-classroom opportunities for practice. The campus has a mock grocery store, travel agency, infirmary, hardware store and hydroponics area. There are several walking paths marked with information on Costa Rican history, geography, flora and fauna. In addition to a well-organized and integrated host family program, Conversa offers on-campus lodging in La Casona, a lovely six-room lodge. La Casita offers two small suites for families that come with children. The school's owners pride themselves in offering their students (guests) quality Spanish training. This year, Conversa is celebrating its 35th anniversary.
Intercultura sets itself apart from other schools with its atmosphere: students and staff interact constantly throughout the day, whether in class, in the reception and lounges, or in activities — thus, the school quickly becomes a second home for students. There are usually two or more activities per day for students to choose from, so it's easy for them to practice Spanish, make friends, and learn new things in addition to the language.
Both school sites are beautiful, fully-equipped and comfortable, with student kitchens, lounges, gardens and study areas. The beach campus is actually on the beach: students walk out the gate and onto the sands of beautiful Sámara. Lastly, Intercultura has a high percentage of professors with Master's degrees in Teaching Spanish as a Second Language and the school provides ongoing professional development workshops for staff year-round, enabling teachers to focus on making classes dynamic and interesting while covering both grammatical and cultural topics.
Kate Sommers-Dawes is assistant editor at Language Magazine.