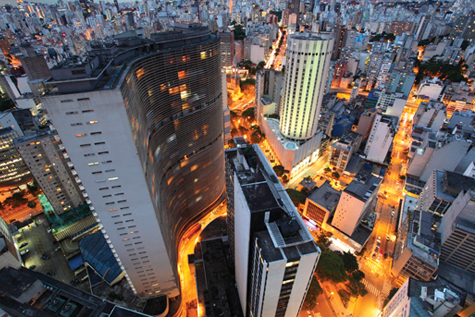 As Brazil flourishes, it becomes an even more attractive Portuguese immersion destination
Following more than three centuries under Portuguese rule, Brazil gained its independence in 1822, maintaining a monarchical system of government until the abolition of slavery and the proclamation of a republic by the military in 1888-9. Brazilian coffee exporters politically dominated the country until populist leader Getulio Vargas rose to power in 1930. By far the largest and most populous country in South America, Brazil underwent more than half a century of populist and military government until 1985, when the military regime peacefully ceded power to civilian rulers. Brazil continues to pursue industrial and agricultural growth and development of its interior.
Exploiting vast natural resources and a large labor pool, it is today South America's leading economic power and a regional leader, one of the first in the area to begin an economic recovery, yet highly unequal income distribution and crime remain pressing problems.
Characterized by well-developed agricultural, mining, manufacturing, and service sectors, Brazil's economy outweighs that of all other South American countries. Since 2003, Brazil has steadily improved macroeconomic stability, building up foreign reserves, reducing its debt profile, adhering to an inflation target, and committing to fiscal responsibility. In 2008, Brazil became a net external creditor and two ratings agencies awarded investment grade status to its debt.
After record growth in 2007 and 2008, the global financial crisis hit Brazil's currency and its stock market — Bovespa — saw large swings as foreign investors pulled resources out of the country. Brazil experienced two quarters of recession. However, it was one of the first emerging markets to begin a recovery. The Central Bank expects growth of five percent in 2010.
Brazil is revered for its soccer prowess and its cultural contributions include the music of classical composer Heitor Villa- Lobos and Bossa Nova icon Antonio Carlos Jobim.
At the time of press, the country is on the verge of nationwide elections. On October 3, more than 130 million voters will choose a president to succeed the hugely popular Luiz Inácio "Lula" da Silva, as well as governors, fifty-four (of eighty-one) senators, 513 members of the national legislature, and more than 1,000 state representatives. This will be the first since democracy was re-established in Brazil after two decades of military rule (which ended in 1985), and the first time since 1989 that voters will not have the option to vote for Lula, whose enormous legacy will mark the Brazilian political scene for at least the next decade.
The most direct manifestation of this legacy is almost certain to be the election of his favored candidate Dilma Rousseff to the Brazilian presidency. Rousseff, like Lula, is a long-term militant of the Partido dos Trabalhadores (Workers' Party/PT) and is, in current opinion-polls, running twenty points ahead of her main adversary, the experienced José Serra, who represents the Partido da Social Democracia Brasileira (Brazilian Social Democratic Party/PSDB).
Dilma Rousseff's approximately 30-50 percent lead over José Serra will ensure this daughter of a Bulgarian immigrant a first-round victory in what will be the first election she has ever fought; even against a candidate who has been governor of São Paulo; federal representative of São Paulo state in the Brazilian congress; mayor of the city of São Paulo; and successively minister of planning and health.
Portuguese is the fifth most spoken language of the world with 240 million speakers and is the official language of eight countries. And Brazil is a great destination for students of Portuguese. It is one of the largest countries of the world with great beauty, warm weather and amazing beaches.
Rio de Janeiro is the main city of Brazil and one of the best places to learn the language. The city has some important tourist points like the Corcovado (recently elected one of the seven wonders), the Sugar Loaf, and the beaches of Ipanema and Copacabana.
The city will also host the summer Olympic Games of 2016 and Brazil will host the soccer World Cup of 2014. If you are worried about security, Rio has the same problems as any big city but investments that are being made for these events are decreasing significantly the violence and improving the transport system and the infrastructure.
Diálogo Language School, on the Barra Beach near the historical center of Salvador da Bahia, has been offering Portuguese language and Brazilian culture programs for the last 20 years. It launched one of the first study abroad programs in Brazil, and offers a wide range of accommodation options and activities, including special programs for universities, cultural programs, volunteering, internships, capoeira, samba dancing, and gastronomy classes.
Barra Beach is the most beautiful beach of the city is a quiet and safe neighborhood close to restaurants, stores, banks, post office, cyber cafes, laundromats and a big shopping mall.
The Portuguese programs run for a minimum of a week, but they advise beginners to take a two to four-week course. Group classes never have more than nine students, and the average is five students per group. All of the teachers have university degrees and regularly participate in professional development workshops.
The main objective is for the student to be able to successfully communicate in Brazilian Portuguese. Classes are focused on conversation, though there are also writing, reading, and grammar requirements. Introduction to the Brazilian way of life, customs, politics and culture represent a very important segment of the classes as well. Approximately half of class time is dedicated to speaking and understanding. Students also learn by listening to local music or by role-playing everyday situations. Classes are held in Portuguese, but all the teachers can speak English and other languages such as German, French, Spanish, and Italian.
Lingua Solta offers Standard (20h/week), Intensive (24h/week) and Private lessons. The school is located in the center of Rio and has the option of accommodation at the same building as the school. The classes are in the morning with specialist teachers and they pride themselves on offering a "life experience."
Step1 Idiomas, in Florianópolis, runs a language and cultural immersion program for students of Portuguese. The school offers the opportunity of learning and practicing Portuguese while exploring the many tourist attractions of its unspoiled city.
Students have the opportunity to take part in cultural activities, volunteering projects, sports, dance classes, capoeira, as well as diving at Campeche Island, windsurfing, kayaking at Lagoa da Conceição, and biking through wonderful trails and beaches.
The school offers highly communicative courses aimed at developing proficiency in the Portuguese language quickly. The courses take into account different learning and teaching styles while incorporating task-based strategies centered on the well-known fact that practice in each skill area enhances mastery of the others.
Fast Forward currently offers language institutions in São Paulo and Maceio, Brazil. Each of these cities offers a unique experience in the modern life of the Portuguese language and the people who natively speak it. Maceió, is the capital of the state of Alagoas in the northeast of Brazil. It is a safe, relaxed and modern city with beautiful beaches. São Paulo is the biggest city in South America and one of the three largest in the world. It is considered one of Latin America's most important industrial and financial centers. Schools offer both group and private instructions, from absolute beginners to advanced levels.
Focus is on communication; beyond grammar books and written exercises, so professors include a variety of oral and listening elements with up-to-date technology to stimulate a comprehensive concept of the Portuguese language. Students are encouraged to interact with their classmates, their professors and the entire staff. The professors also organize various activities during the students' free time. Enthusiastic and experienced host families also contribute greatly to students' lives and well-being.
Idiomas To Go is based in one of the most charming and well-located neighborhoods of São Paulo. Situated one hour away from the gorgeous beaches of São Paulo State, its population and visitors are privileged. The school specializes in teaching adults of different nationalities. Besides the language, teachers share important cultural aspects to acclimatize students to the country and to the language learning process.