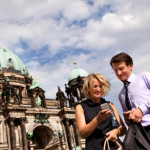 German may be the tenth most-spoken language in the world in terms of native-speakers, but, according to a socio-linguist at the University of Duisburg-Essen, it is not only the fourth most-popular language to learn, after English, French, and Chinese, but also the fourth most important economic language in terms of the gross national product (GNP) yielded by its speakers, after English, Chinese, and Spanish. "People get the impression that when you learn German, you are gaining access to countries that are flourishing economically, which in turn brings better career opportunities as well as education and training," says professor Dr. Ulrich Ammon. Currently more people are learning German than Spanish, despite the enormous number of Spanish native speakers around the world. Professor Ammon can see this continuing in the future: "German will never challenge English, which is the truly international language, but prosperity can continue to make a difference, particularly if Spain continues to struggle economically".
Germany's recent role in the Eurozone crisis has also contributed to German's attractiveness. Viola Noll, a spokesperson for the Goethe Institute, said that the Eurozone crisis had led to a boom in southern Europeans wanting to learn German, mainly Spaniards, Italians, and Greeks. Around 14.5 million people worldwide are learning German as a foreign language, according to the latest estimates from the Goethe Institute. It is taught in schools in 144 countries around the world. Mark Twain famously said that German was too hard to learn in one lifetime, but Professor Ammon thinks the difficulties in German are exaggerated."The grammatical structure in German is perhaps more difficult than other major European languages, but as soon as a language is considered useful, people forget about the difficulty".
German as a foreign language is particularly popular in emerging countries like India, Brazil, and China with growth between 24-75% since 2010. However, France is now discussing the abolition of its French-German "bilangues" classes, which were established about a decade ago to promote youth learning German. France's Education Minister, Najat Valluad-Belkacem, argues that the bilingual classes are detrimental to children from socially-disadvantaged backgrounds, providing an elitist advantage to students from the educated middle class only.
Ulrich Ammon's latest book, "Die Stellung der Deutschen Sprache in der Welt" (The status of the German language in the world) has recently been published by De Gruyter (Berlin).