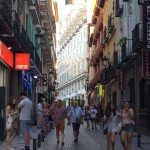 Comparative study of U.S. and Europe shows correlation between language requirements and multilingualism
A Pew Research Center study on foreign language education in the U.S. compared to Europe points out that while the U.S. has no foreign language requirement mandated by the federal government, most European countries require that young pupils begin learning a second, and in many cases a third, language before high school. Such language requirements foster a culture of multilingualism, whereas on U.S. soil, monolingualism apparently prevails.
The study published in Pew's Fact Tank compiled data from a variety of reports to offer a snapshot of how foreign language education differs in the U.S. and Europe. With no national requirements for foreign language study, foreign language offerings and requirements vary by state. The report points out that the statistics of primary school students embarking on language study is especially low. At the high school level, some states allow students to choose between an art elective or a foreign language. A more recent trend in some U.S. schools is to allow computer coding to take the place of a traditional foreign language. The authors of the study posit that perhaps the lack of foreign language requirements in the U.S. has led to the phenomenon, or at least the stereotype, of the monolingual American. According to a 2006 General Social Survey cited by Pew, only of a quarter of Americans report speaking another language, and only 43% of them report speaking a second language very well. Among the demographic of bilingual Americans, only 7% reported picking up a second language in school, while the overwhelming majority learned at home as a heritage speaker.
In contrast, 30 of the European nations surveyed have their students learning a second language by age 10. Even in the Anglophone U.K. the government is implementing language programs starting in second grade. Furthermore, before age 15 students in Belgium, Cyprus, Estonia, Finland, France, Greece, Hungary, Iceland, Italy, Latvia, Lithuania, Luxembourg, Malta, Poland, Portugal, Romania, Slovakia and Slovenia take on a third language. In many cases, English is a required second language, but other popular languages include French, German, Spanish and Russian.
Access the Fact Tank on foreign language education here.
#multilingualism #bilingual #langchat #edchat #europe