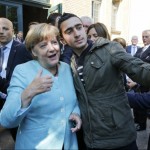 The Japan Art Association, an art charity under the patronage of Prince Hitachi, unveiled a donation of ¥100 million (about $829,000) to the Goethe-Institut. The institute teaches German to foreigners, and will specifically do so in an effort to support language education for refugees arriving in Germany, the German Foreign Ministry said. Germany is receiving a flood of refugees mostly fleeing from conflicts in the Middle East. Chancellor of Germany, Angela Merkel, has been a strong voice in the refugees crisis conversation, insisting on the importance of "human and dignified treatment" of asylum seekers in the wake of political protests. "There will be no tolerance towards those who are not prepared to help," she said.
Foreign Minister Frank-Walter Steinmeier said that he is "delighted" that the Goethe-Institut, Germany's flagship vehicle in promoting its cultural policy, is "recognized and supported" by the Japanese association. He added that cultural and educational work will be "an indispensable contribution to the integration of people accommodated" in the country. In August, approximately 120,000 refugees arrived at Munich's train station with many others spread across Europe. Germany has been one of the most accepting countries of the refugees and the German Vice-Chancellor said the country could accept 500,000 refugees a year.
The donation to the Goethe-Institut was offered on the occasion of the announcement of this year's awards conferred by the Japan Art Association, called Praemium Imperiale, to five artists worldwide for their distinguished achievements, including German sculptor Wolfgang Laib, 65.
Photo: A migrant takes a selfie with German Chancellor Angela Merkel outside a refugee camp near the Federal Office for Migration and Refugees after registration at Berlin's Spandau district, Germany September 10, 2015. REUTERS/Fabrizio Bensch
#Germany #refugeescrisis #refugeeswelcome #German #Japan