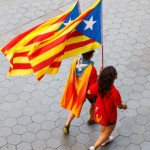 Historians with the Catalan separatist-leaning Institute Nova Història say that for centuries, Castilian Spanish leaders have ignored or downplayed the role of Catalunya in the country's history.
Jordi Bilbeny, director of investigations at the institute claims that Castilian leaders have for hundreds of years tried to take credit for the accomplishments of Catalan people. Last month, the institute held seminars in Montblanc, Tarragona including one which questioned whether Miguel de Cervantes' famous Don Quixote—widely considered the first modern novel—was in fact actually originally written in Catalan.
One historian argued that linguistic errors in the text point to the possibility that Don Quixote was translated into Castilian from Catalan.
Catalunya is an autonomous region of Spain but the independence movement has strengthened in recent years with regional Catalan president Artur Mas calling early elections this month to serve as a proxy vote on independence. The upcoming vote is being framed by pro-independence forces as a substitute for the referendum the Spanish government refuses to permit. Artur Mas' party will stand on a joint ticket, 'Together for Yes', with Republican Left and a number of independent candidates. The coalition has committed to an eighteen month roadmap to independence should it win a parliamentary majority.
Another topic discussed at the institute's seminar is the origins of the so-called discoverer of the New World, Christopher Columbus. Bilbeny, who studied the development of languages and has a PhD in modern history, has presented early documents that, for example, he says show Columbus' original name was Colom—like Colombia—which has Catalan origin.
However, Joaquim Coll, vice-president of pro-Spanish unity association Societat Civil Catalana, told Spanish daily El Mundo that considering the arguments of the Institute Nova Història to be scientific would be "too generous".
"It is a history by enthusiasts with clear political intentions," Coll said. "It is so absurd that it becomes hilarious," he added.
#Catalonia #Catalunya #Cervantes #Spain