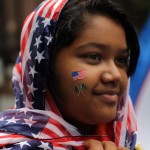 The Center for Immigration Studies (CIS) recently released Census Bureau data from the 2014 American Community Survey (ACS) showing that a record 63.2 million U.S. residents five years of age and older speak a language other than English at home. The number is up 3.6 million since 2010 and reflects that more than one in five U.S. residents now speaks a foreign language at home. Of these languages, the fastest-growing was Arabic. The findings of the CIS's report "reinforce other studies, which show that Muslim immigration is the fastest growing bloc of new immigrants. Every year the United States voluntarily imports more than a quarter of a million– or 280,000– Muslim migrants (this figure includes permanently resettled immigrants, guest workers, refugees and foreign students)," according to Breitbart.
The largest percentage increases from 2010 to 2014 were among speakers of Arabic (up 29 percent), Urdu (up 23 percent), Hindi (up 19 percent), Chinese and Hmong (both up 12 percent), and Gujarati and Persian (both up 9 percent). Urdu is spoken in Pakistan; Hindi and Guajarati are languages of India; Hmong is spoken in Laos; Persian is spoken in Iran.
The largest numerical increases from 2010 to 2014 were among speakers of Spanish (up 2.3 million), Chinese (up 331,000), Arabic (up 252,000), Tagalog (up 115,000), Hindi (up 114,000), and Urdu (up 89,000). Tagalog is spoken in the Philippines.
States with the largest share of their populations speaking a foreign language in 2014 were California (44 percent), New Mexico (37 percent), Texas (36 percent), Nevada and New Jersey (both 31 percent), New York (30 percent), Florida (28 percent), Arizona (27 percent), Hawaii (25 percent), Illinois and Massachusetts (both 23 percent), Connecticut (22 percent), and Rhode Island (21 percent).
NEW YORK – SEPTEMBER 26: Aliza Fatima, 12, of Queens and a descendent of Pakistani parents, participates in the American Muslim Day Parade on September 26, 2010 (Photo by Spencer Platt/Getty Images)
#Arabic #language