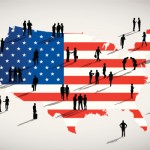 More than 1 in 5 United States residents speak a foreign language at home and a recent chart released by the U.S. Census Bureau illustrates the breadth of America's languages. The data, gleaned from Census information from 2009 to 2013, found that overall, U.S. residents speak more than 350 different languages at home. The data set illustrates statistics on languages that are spoken less widely in the U.S., such as Pennsylvania Dutch, Amharic, and many others, and also includes approximately 150 Native North American languages such as Dakota, Apache, and Cherokee. The tables show the number of speakers of each language as well as self-reported English-speaking levels.
The Census Beureau data suggests that Asian-American immigrants have a harder time learning English than Hispanic immigrants. More than 56% of those who speak Spanish at home also reported speaking English "very well," compared to about 40% of Asian language-speakers. However, Steven A. Camarota, a demographer at the Center for Immigration Studies, was skeptical about drawing such conclusions from the data without understanding cultural differences. "It's based on self-evaluation. It doesn't mean that it's meaningless, it just means that Asians might judge themselves much harsher," he said.
"While most of the U.S. population speaks only English at home or a handful of other languages like Spanish or Vietnamese, the American Community Survey reveals the wide-ranging language diversity of the United States," said Erik Vickstrom, a Census Bureau statistician. "For example, in the New York metro area alone, more than a third of the population speaks a language other than English at home, and close to 200 different languages are spoken. Knowing the number of languages and how many speak these languages in a particular area provides valuable information to policymakers, planners and researchers." Policymakers are also concerned with the self-reported English-speaking levels as a growing percentage of K-12 students and adults are designated English language learners (ELLs).
#languages #ELLs #US