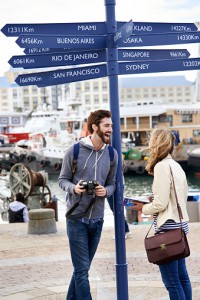 Forget dieting or styling your hair-learn another language!
Americans and Brits find multilingualism attractive in different ways, according to Babbel's Perception of Languages Survey. Babbel is a German-based online language-learning platform that trains its over a million paying users in major European languages and Indonesian.
About 1500 Americans and 1500 Britons were surveyed on their perceptions of the languages offered by Babbel which naturally led to euro-centric answers for most questions but there was one unquestionable result-being multilingual makes people more attractive. Nearly three-fourths of Americans (71%) believe speaking more than one languages makes a person seem more attractive, while over two-thirds (64%) of Brits agree. On both sides of the Atlantic, nine out of ten people admit they would learn a language in the pursuit of love and about 50% admit to having fantasized about a romance with a "foreigner."
On a professional level, over a quarter (26%) of Americans and 23% of Brits feel that a lack of language skills has held them back in the workplace. One in eight of all respondents admit to having exaggerated their language skills on resume to impress potential employers.
Nearly a fifth of Americans (19%) and 16% of Britons have actually avoided a country they planned to visit due to fears over the language barrier, and 97% of both feel that they would enjoy trips abroad if they spoke the native language.
Of the European languages surveyed, Americans see French as the most impressive second language, but British people view Russian as being most indicative of intelligence. While both Americans and the British in general view Spanish as the most useful language to learn, Brits are much more likely to instead view French or German as the most useful second language. They agree that Russian is the most difficult language to learn, but Americans consider Spanish to be the easiest language to pick up; while Britons view French as the easiest.