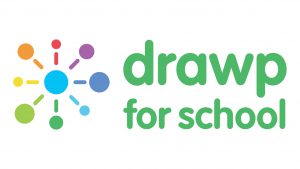 Drawp for School is a digital content-creation and collaboration tool with embedded language scaffolds for English language learners (ELLs). Teachers use Drawp to provide language-scaffolding support to assignments in any subject. Students can work on those assignments with text, voice, or sketched responses—individually or in groups. Drawp helps teachers generate comprehensible input for students for any assignment, and it encourages language-transfer skills. The language scaffolds were developed by the Los Angeles County Office of Education (LACOE), and the Digital Scaffolding Tool for English Language Learners, Powered by Drawp for School was recently awarded support from the National Science Foundation.
The Drawp tool allows teachers to turn content objectives into language objectives. The software promotes student interaction with teachers and is easily incorporated into instructional time. Students can toggle between language scaffolds, which can be assigned by depth of knowledge and language proficiency. Drawp is ideal for all ELLs and is especially useful for newcomers, dual-immersion classrooms, and foreign language learners.
Drawp's software is COPPA compliant, and no email is needed for students. The software is cloud based, allowing students to work from any location. Drawp is available for web, iPad, Android, Chromebook, Mac, and Windows and is integrated with Google and Dropbox.