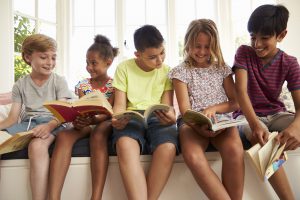 Language Magazine explores different methods and resources for students to keep up with their studies over the summer in fun ways.
Start With a Book
To ward off the learning loss that many children experience over the summer, Start With a Book (www.startwithabook.org) offers parents, caregivers, summer program staff, and librarians lots of engaging ideas for getting young kids hooked on reading, talking, exploring, and learning all summer long. The free resources on Start With a Book build on what young children already like—dinosaurs, inventions, detectives, animals, superheroes, and music—24 kid-friendly themes in all. Each theme features recommended fiction and nonfiction books, along with hands-on activities that encourage conversation and active learning, and educational apps and websites to deepen the learning around a topic. The site also offers ideas and activities to stretch writing muscles in the summer, and tips for parents on reading aloud and building fluency skills. Parents can sign up for weekly text messages (in English or Spanish), filled with fun, easy-to-do activities that build reading, writing, and thinking skills. Start With a Book is a summer reading initiative of Reading Rockets — a national, award-winning early literacy project of WETA Public Broadcasting. Reading Rockets offers additional resources on summer learning loss and activities for teachers to help families get ready for summer and to launch students to fun, enriching summertime experiences.
iREAD
Since 1981, iREAD has developed summer reading programs with the mission of providing high quality, low-cost resources, and products that enable local library staff to motivate children, young adults, and adults to read.
The iREAD 2017 theme, Reading by Design, is inspired by the creativity of authors, illustrators, builders, inventors, artists, architects, and everyone who makes our world a more interesting, livable, accessible, and beautiful place. The idea is to inspire readers to explore their own creativity and design new worlds for themselves and for all of us.
The benefits of summer reading are clear. National research finds that students who participate in library summer reading programs scored higher on reading achievement tests at the beginning of the next school year than those who did not participate. The iREAD mission is to provide libraries with the tools to bridge this summer gap, while inspiring literacy and life-long learning.
iREAD programming includes activities, graphics, crafts, reading lists, incentives, and much more for children, teens, and adults.
As a coordinated, self-supporting effort developed by the Illinois Library Association and librarians, every purchase from iREAD helps to promote and assist the great work of libraries.
Easyread
Easyread is a leading online intervention for struggling readers age 6+ that uses research-proven visual phonics to stop children guessing and start them decoding. Optimized for highly visual learners, Easyread's one-of-a-kind approach works through 15 minute daily lessons full of targeted games, literacy exercises, and leveled stories. Easyread begins by building phonemic awareness and blending ability, then moves on to fluency, comprehension and spelling. The program adapts to each learner's ability through an extensive dashboard of progress tracking, viewable by program facilitators at any time.
And best of all, children love it – parents and educators tell us it's the first time the child has actually asked to do something educational, even after years of struggling academically!
Published by DM Education, the program has been running for nearly a decade, with 99.4% of parents/teachers satisfied with the outcomes they see (.06% of members take our unconditional refund guarantee annually). Bilingual learners and ESL students with a good verbal proficiency in English who struggle to read at grade level tend to improve after 3-6 months of daily lessons.
ABC Mouse
ABCmouse's Early Learning Academy is a comprehensive digital learning resource for preschool through 2nd grade. To date, more than 10 million children have completed more than two billion learning activities on the site.
The curriculum contains more than 8,500 learning activities that encompass reading and language arts, math, science, health, social studies, art, and music. It offers more than 800 digital books, including 100+ Stepped Readers, that help children build vocabulary, decode, and practice comprehension strategies. Large-scale research studies have shown that it helps children make significant gains in early literacy and math skills.
ABCmouse for Schools complements this curriculum by offering teacher support and implementation services to schools and school districts.
This offering includes onboarding and implementation services, usage reports and training, and teacher and family engagement support. It also includes year-round home access for all students, promoting 3rd grade readiness and combating the summer slide.
Over the summer, children can use ABCmouse to practice what they've learned and continue to progress along the Step-by-Step Learning Path.
Write Brain Books
Lower income youth are still losing more than two months in reading achievement, and face slimmer chances of completing high school and college, when they are not offered enriching summer learning experiences.
Write Brain Books are richly illustrated, wordless books with lines on the pages. Students of all ages collaboratively and independently author original stories, receiving hardcover & softcover copies of their published books. Their summer programs help students overcome learning loss with project-based, disguised learning programs that are fun, engaging, and self-esteem boosting.
Packages are customizable to any summer program length and budgetary needs.