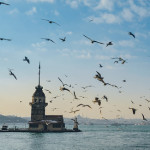 Whether a language is spoken, written, or signed with the hands, it is generally agreed that language processing occurs mostly in the left side of the brain. Tonal languages use more of the right brain for understanding nuanced tones and pitches, but the whistled language of Turkey takes right brain language processing to another level. Before the invention of telephones, village dwellers in Turkey created a unique form of long distance communication: whistled Turkish. The language is called kuş dili by locals, meaning "bird language." Onur Güntürkün of Ruhr-University Bochum in Germany told Science Daily, "If you look at the topography, it is clear how handy whistled communication is. You can't articulate as loud as you can whistle, so whistled language can be heard kilometers away across steep canyons and high mountains." Güntürkün continued, "We are unbelievably lucky that such a language indeed exists. It is a true experiment of nature."
Güntürkün recently published a study, titled Whistled Turkish Alters Language Asymmetries, in which he compared the comprehension of "normal" vocalized Turkish and whistled Turkish. Whistled Turkish uses that same grammar and vocabulary of vocal Turkish but transforms words into whistles. The study found that comprehension was left-hemisphere-dominant when native speakers were processing vocal Turkish. When the study participants were processing whistled Turkish however, there was a significant decrease in left-hemisphere brain activity and an increase of reliance on the right-hemisphere, resulting in symmetric hemisphere contributions. "We could show that whistled Turkish creates a balanced contribution of the hemispheres," Güntürkün said. "The left hemisphere is involved since whistled Turkish is a language, but the right hemisphere is equally involved since for this strange language all auditory specializations of this hemisphere are needed."
To hear some audio samples of whistled Turkish, click here.
#Turkish #neuroscience #linguistics